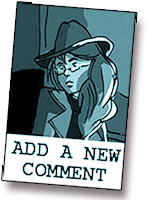 | | | | | |
| --- | --- | --- | --- | --- |
| | | | | |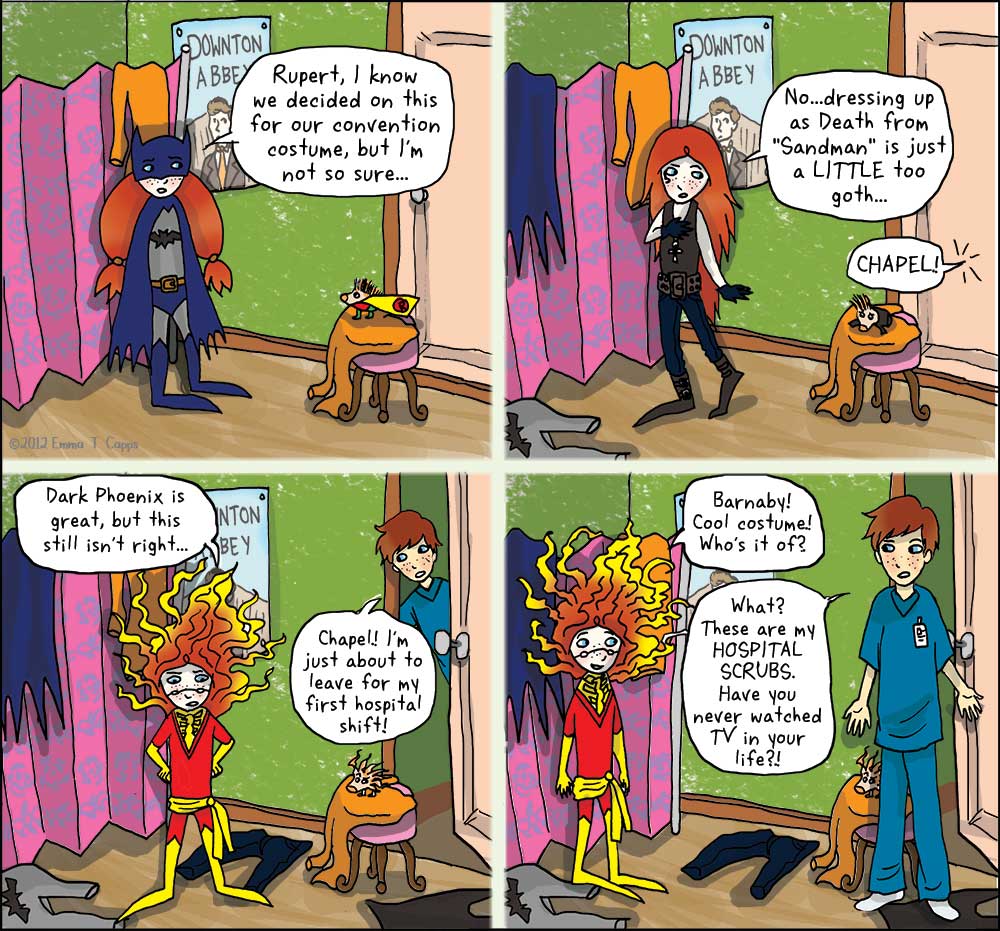 Superheroes can wear strange costumes nowadays, so it's no wonder Chapel might mistake Barnaby's scrubs for a superhero costume…except they're quite obviously hospital scrubs! And everyone knows what scrubs look like, don't they? Because there a ridiculous number of television shows about doctors on TV. Chapel doesn't watch much TV, however, and her mom wears a long white doctor's coat over regular clothes to the hospital. So Chapel thinks everyone in the hospital wears that uniform. And if you look at it from Chapel's perspective, she makesa pretty reasonable assumption. Besides, Chapel was preoccupied with her fabulous outfits! Are any of you guys familiar with the characters Chapel's cosplaying in this comic? Well, I hope at least everyone knows the first one!
The answer to last week's trivia question: "
Cruel and Unusual Punishment
", from last season.
This strip will be a two-parter, so you'll see some more costume fun next week! And well, looks like after all the hullabaloo, Barnaby's finally off to his first shift at the hospital!
What costumes do you predict Chapel will wear in the second part of this strip? Leave a guess below! What are YOUR favorite and least favorite superhero costumes?
| | |
| --- | --- |
| | |
check out Emma T Capps new web comic SUNNY,
The League of Fonts
THE LEAGUE OF FONTS is where typefaces are born. Every time a font is created in the world, it manifests as a living, breathing, Font – human for all intents and purposes, but unable to age or die unless their typeface falls into disuse. They live together on the League of Fonts, which serves as a secret island hub, bustling corporation, and home. It's a world full of its own internal intrigues like any office, and Times New Roman is its powerful CEO. He's got a lot on his plate lately: planning the League's famous Decennial party, struggling with modern technology, and hiding his embarrassing addiction to the Twilight movies. Times New Roman is confident he can keep everything under control…but what's an old font to do when a young boy named Louis Pepping accidentally stumbles onto the secrets of the League? Find out every Wednesday!